Our

Welcome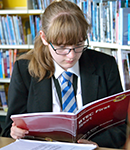 Welcome to Beaumont Leys School. We are very proud of our school and our achievements.
Together We Achieve Success is our motto and it is the driving force of the school. Our students thrive because of their effort and hard work, along with the skill, hard work and dedication of their teachers and the support of their parents.
We are a school with a heart and soul and we believe that our job is to give our students the best possible chances in life, creating some fantastic lifelong memories along the way.
Read More
Important

Notices
Student Reports
Reports have been posted home this week. Envelopes also contain important information about uniform, including PE kit, attendance, term dates and, for Year 10, work experience self-placements. For copies of the letters please go to the 'Our Communications' page.