Creative Arts
Curriculum time:
| | | | | | |
| --- | --- | --- | --- | --- | --- |
| | Year 7 | Year 8 | Year 9 | Year 10 | Year 11 |
| Lessons a week | 1 | 1 | 1 | 3 | 3 |
Teaching team:
Teacher

Roles

Contact Email

Ms McCallum

Team Leader Creative Arts-Teacher of Art

Mrs Cartwright

SSL- Teacher of Drama

Miss Trolley

Team leader for Competency Curriculum and teacher

of Drama

Mrs Gadher

Teacher of Art

Mrs Satchwell

Teacher of Music

Mrs Nyamuda

Teacher of Drama
Facilities:
Two fabulous Art studios, Mirrored Dance Studio with sprung floor, Drama Studio and Performance space in the hall with tiered seating for up to 220 people, also equipped with professional sound and lighting system. A well-equipped Music Room with four practice rooms, and a small recording studio.
KS3 Curriculum
Year 7

Year 8

Year 9

Art- Skills

Portraits

Drama- Anne Frank Story

Melodrama

Perseus and Medusa

Music- Basic Musicianship

Pachelbels Canon

Blues Music

Film Music

Ukuleles

Art- Day of the dead

Buildings

Cubist Portraits

Drama- Pantomime

Jimmy's story

Documentary Drama

Art- Pop Art

Identity

Tim Burton

Drama – Fame

Romeo and Juliet

Blood Brothers

Music – Chords

Fur Elise

Gospel Music

Reggae Music

Samba

Ukuleles
KS3 Assessment
Art- students are assessed based on the assessment grid which is linked to the national curriculum. Students are formatively assessed twice in a project, and summative assessment at the end. Work is mostly practical, but literacy is also key.
Music-Students complete a base line test as they enter in Year 7 and are assigned to a flightpath. Students work along their flightpaths making progress, completing mini assessments throughout the project to ensure they are gaining the correct skills and then they complete an assessment at the end of each project.
Drama- Students in KS3 are assessed mid-way through each topic and also at the end of each topic. They will be assessed on their ability to devise and create work, their technical performance skills and also their ability to evaluate their own work and work of others.
KS4
Art
BTEC First award in Art and Design Level 1 and 2 (Pearson)
Students complete three units- all units are based around the world of work, and students are given a brief as if they are a designer. In year 11, they complete an eight week exam project which culminates in a ten hour main piece.
The coursework units are worth 75% of the course, exam unit is 25%.
List web links to useful documents – specification, past papers, revision sites etc.
Assessment structure – Exam/coursework and percentages plus how long the exams are and if there are tiers
KS4 topics covered
Art-
Pop Art
Art Materials
Regeneration in Leicester
British seaside
http://qualifications.pearson.com/en/qualifications/btec-firsts/art-and-design-2012-nqf.html
Unit One: Introduction to specialist pathways in Art and Design
Unit Three: Communicating Ideas in 2D
Unit Six: Investigating Contextual References in Art and Design
Music
BTEC Music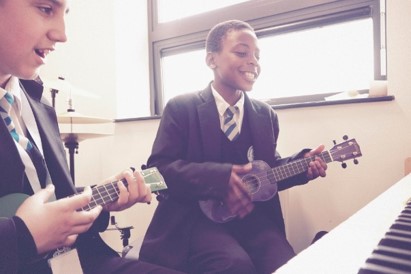 Year 10:
Unit Five: – Introducing Music Performance (coursework)
Pupils need to be able to play a music/sing for this project and will need to take part in a series of recordings to show progress. Pupils will complete a video log for this project.
UnitTwo: – Managing a music project (coursework and performance)
Pupils will look at how you put on a music event, and will research promoting, planning and producing the event. After the event, pupils will need to evaluate their performance of the overall event.
Year 11:
Unit One: – Introduction to the Music Industry (exam based)
Pupils will look at different jobs within the industry, learn about the health and safety requirements as well as small and large venues.
Unit Four: - Introducing Music Composition (coursework)
Pupils will compose music to set stimulus for this project and will be required to build on compositions by length and by detail. Pupils will use both computers and manuscript paper for this task.
Drama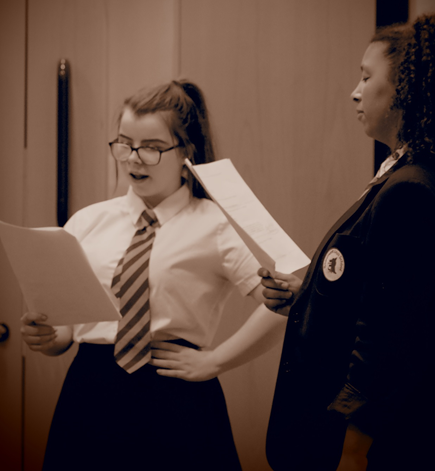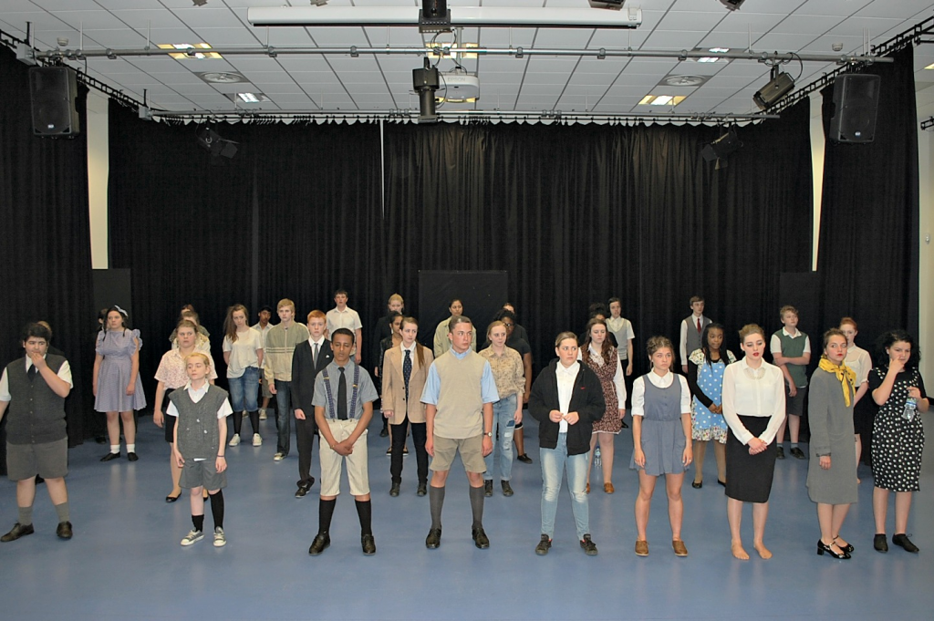 KS4
BTEC Level 1/Level 2 Technical Award in Performing Arts
http://qualifications.pearson.com/en/qualifications/btec-tech-awards/performing-arts.html
There are three components to complete during years 10 and 11 and these are taught over three hours a week during the two years. These components build on each other to help you put what students have learned into practice and grow in confidence
¡ Component 1: Exploring the Performing Arts 30% (internally assessed)
¡ Component 2: Developing skills and techniques 30% (internally assessed)
¡ Component 3: Performing to a brief 40% (externally assessed)
There is no written examination and students must pass all units to gain either a pass, merit or distinction grade. This is a level 1 and level 2 course which means that students can get the equivalent of 1 GCSE at either level 1 or level 2 (Level 1 is the equivalent of a GCSE grade D-G and level 2 is the equivalent of a GCSE grade A*-C)
Topics covered:
Understanding a range of performance styles
Skills and techniques in performance
Roles and responsibilities in the performing arts
Practitioners and how they create and influence performance material
Reviewing progress and setting targets
Responding to a brief/stimulus